Testimonials
I found this delightful little bag when I was looking for a small bag in which to toss my urinary pads that I have been using since surgery. I decided to try them. After receiving my order and trying them out I turned around and then bought 6 more boxes of them. They are small, pretty, and have a delightfully light scent. I figured any bag that is used for sanitary napkins and tampons could be used for urinary pads as well. I was right. I only wish they made a room spray in the light scent that these bags have. It is so pleasant and would smell nice sprayed around the room. I love using them. They are absolutely perfect, feminine and easy to carry around with you. You just place your used pad or tampon inside, tie it up and toss it. No mess, no fuss, no smell, no problem. I liked these so much I would give them away just so others could try them out. Do yourself a favor and get a box.

Susan G
These are great, easy to carry and use. I have a septic system, so this is an absolute necessity for me. I found them on a WA State Ferry and thought they were a great idea. They're good sized, so they would work for all sized liners and pads. I bought six boxes and gave a few to my teenage niece. She really likes them too. They're really a must if you have a septic system, old plumbing, a boat or RV. They're antimicrobial, biodegradable, discreet and have a pleasant scent. You won't be disappointed.

Elaine A
I work in a small store and we don't have a separate receptacle for feminine products and I always felt uncomfortable throwing mine into the community trash that only gets changed once a week. These bags are the perfect solution! They are very discreet and reduce the risk of odor. I will also be carrying them in my purse and suitcase for use in other people's homes. They are a great size which makes them useful for all shapes and sizes of tampons, pads, and liners. I absolutely recommend these to all women who use any feminine hygiene products!!

Beth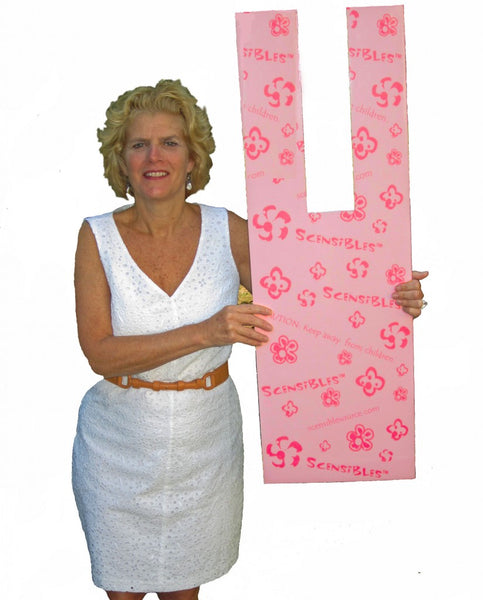 Meet Our Founder
My journey to become an entrepreneur was an absolute fluke. It all started over ten years ago with a sign in the women's restroom at my workplace. "Ladies: STOP flushing tampons down the toilet. We cannot afford the plumbing bills!"
The only option was tossing my product in the unsightly, disgusting and smelly stall waste receptacle. This was unacceptable to me and I knew there had to be a better way!
The days and nights began to fade together as I conducted extensive market research, tested various sizes and closures of plastic bags, designed a decorative pattern, plus experimented with fragrances to choose the perfect fresh scent.
Then boom it happened. Our first entry into the market was with installations of refillable units to dispense our little pink bags in public-use women's washrooms, which now are found from coast to coast.
Scensibles are sold in the best supermarket chain in the U.S (according to Consumer Reports) WEGMANS Food Markets and on-line.
It's time to carve out a new path to bring Scensibles right to your doorstep via social media and the internet. So please join me as we embark on our new journey to show menstruators across the globe that a little bag really can bring lots of confidence!
-Ann Germanow